On December 11, 2018, BJ O'Hare announced that the Microsoft Virtual Academy was retiring at the end of January 31, 2019. You can read the announcement here.
As a member of the MVA Founders Club, I am very sad to see it go. Especially considering that I'm leaving some badges behind. There were many excellent videos that I recommended frequently to my classes and I hope that they will be saved somewhere. Maybe even moved over to Microsoft Learn.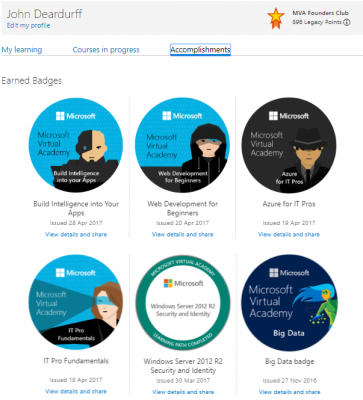 Speaking of Microsoft Learn, I am very excited to dive into a new set of challenges and topic-focused videos that will power my learning adventures over the next several years. Of course, I've also been looking at the Microsoft Cloud Society area of Microsoft Learning that is guided to help those looking to earn one of the new Azure certifications. Iain Fielding has an excellent outline of the updates to these certifications here.