Another SQL Saturday in Indianapolis has finished and I am both exhausted and excited that we were able to have such a successful event. The unofficial count is about 480 registered attendees with an approximately 275 people attending. Both new records.
First, I have to begin by thanking all of the volunteers who helped behind the scenes in ways that often goes unnoticed. Starting out on Tuesday at our swag bag stuffing party, where we put 450 packets together in under an hour and a half. Then on Saturday, getting up early to put up road signs, getting rooms and the sponsor area set up, and helping at the registration booth. Not to mention, working the lunch lines or performing clean up duty at the end of the day. I am very greatful for all the hard work of these awesome people who gave up their time to help.
This event does not happen without organizer extraordinaire Hope Foley. The last two weeks we texted, emailed, twittered, skyped, and chatted about 7-8 times a day to go over details big and small. I'm just glad that we were able to take turns freaking out when problems arose.
And this year we came across many new challenges, some expected and some complete surprises. The expected was that we were moving to a new, larger venue that was a little out of the way. But this gave us a chance to find and work with a new lunch caterer as well. Both of which, I believe will be great partners in the years to come. So Thank you Ivy Tech Noblesville for the awesome venue and Nameless Catering for the excellent lunch service.
The surprise challenges ranged from a sponsor and several speakers cancelling; to the venue for our speaker dinner closing their doors, all within the last two weeks before the event. Now that was some stress. With some quick juggling, Hope was able to get the speaker dinner booked at Wolfies on the Waterfront. And like they say, a picture is worth a thousand words… So here is a picture that was taken by Jonathan Stewart during the speaker dinner.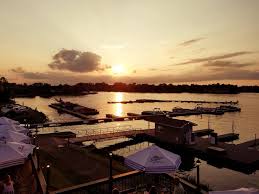 Speaking of Jonathan, I would like to thank him as well as our other two Pre-con speakers, Ben Miller and Shannon Lowder. We ended up with 33 total people for our SQL Prequel Friday at New Horizons. I wish to extend a very special thanks to my co-workers who went out of their way to support the pre-conference event. Most of all Deidre and Breanna, who both went above and beyond.
For the actual SQL Saturday event, we had so many great speakers from across the country sharing their passion for all things SQL related. We went with 9 seperate tracks this year and I was worried that it would spread the sessions too thin. But that was not an issue as most of the sessions were full or standing room only.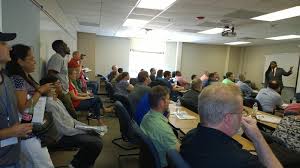 Of the nine tracks, my favorite was the return this year of the #SQLStarter track that was begun last year by Hope. Other than a few specific sessions, the #SQLStarter track sessions were the most attended and most requested. It is my wish that these types of tracks and sessions spread to other SQL Saturdays to help grow the #SQLFamily.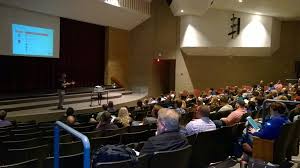 Finally, and definitely not least, this event only happens with the support of our sponsors. I was worried for a little bit going into the last month, but there were a lot of last minute vendors who stepped up and really allowed us to put on a high quality event. So once again Thank You to all of our sponsors.