I'm humbled to once again be selected for another two-year term as an MCT Regional Lead for 2022-2023. I was one of the original Regional Leads appointed in 2012 and it has truly been an honor serving the MCT community.
What is an MCT?
Microsoft Certified Trainers (MCTs) are the premier technical and instructional experts in Microsoft technologies. This is an exclusive group of worldwide Microsoft technical training professionals that spend most of their time sharing their experience and knowledge in using Microsoft products and solutions for each course they deliver.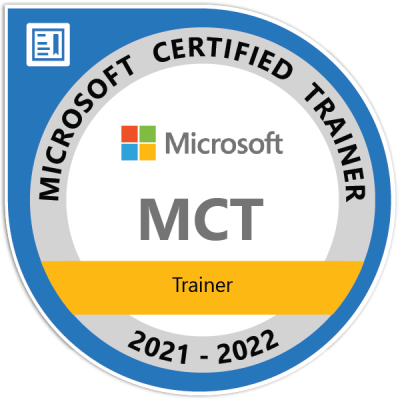 What is an MCT Regional Lead?
MCT Regional Leads are a group of less than one hundred MCTs from around the world that are the liaison between MCTs in a region, (in my case the United States) and the Microsoft Learning team. The MCT Regional Lead program was created to identify community leaders to serve as regional representatives.
The goal of the MCT Regional Lead program is to help current and future MCTs with any questions they might have around the MCT program, Microsoft Official Curriculum, and/or Microsoft certifications. We also provide feedback on the direction of the MCT program and provide a voice for the larger MCT Community.